Condolences & Tributes
We encourage you to share any memorable photos or stories about Ainslie. All tributes placed on and purchased through this memorial website will remain on in perpetuity for future generations.
Jean, Ruth, Elizabeth, Cheryl, and Sharon "Coope
sent flowers to the family of Ainslie (Red) Cooper.
Send Flowers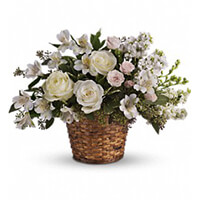 We are so sorry for your loss! But we rejoice in knowing that Uncle Ainslie is with our Lord and Savior! Our prayers are with you!

Dear Judy, Brenda, Debbie and Families of Ainslie~ Thank you for sharing your Dad with us here at SL. His gentle spirit was obvious. Holding you all in prayer during this time of tears and acceptance. He is with God.
lily kampferseck
- Wednesday October 24, 2018 via Condolence Message

Dear Brenda, Judy, Debbie & families, I am very sorry for the loss of your father. You are all in my thoughts and prayers at this difficult time.
Linda Wescott
- Wednesday October 24, 2018 via Condolence Message